Ellen Wessel
Co-Founder, Moving Comfort®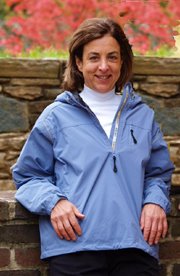 Ellen Wessel is a persistent and passionate champion for Moving Comfort's guiding principle that "a fit woman is a powerful woman®." Wessel started running in 1974 to replace a well-entrenched smoking habit. Today she is a retired marathoner — a veteran of nine, a PR of 3:05 — including Boston and New York. Her disciplined fitness routine now includes a balance of running, weight training and yoga combined with horseback riding, hiking and kayaking. Since co-founding the company in 1977, Wessel and co-originator Elizabeth Goeke built Moving Comfort into one of the most highly-respected brands of women's athleticwear in the United States.
Wessel is a tireless advocate of women's health and fitness. Over the past fifteen years, she has served on numerous boards and committees and been recognized repeatedly for her work with like-minded companies and individuals.
Boards and Committees:
Board of Trustees, Sporting Goods Manufacturers Association (SGMA)

Board of Directors, Outdoor Industry Association (OIA)

Executive Committee, Government Relations, SGMA

Executive Committee, Sports Apparel Products Council, SGMA

Executive Committee, Outdoor Products Council, SGMA

Advisory Board, Business for Wilderness

Advisory Board, Melpomene Institute for Women's Health Research

Advisory Board, Road Runners Club of America

Advisory Board, Women's Sports Foundation

Awards:

Women of the Year in Sports, 1996. Co-sponsored by Sporting Goods Business and the New York Times
Fred Lebow Women's Running Award, 1998. Road Runners Club of America
Outdoor Industry Advocacy Award, 2000. SGMA and OIA
Other Experience:
Between college graduation and co-founding Moving Comfort in 1977 at age 26, Wessel worked at the Washington Bureau of the Philadelphia Bulletin (now defunct); served as Public Relations Director at the Kennedy Center for Bioethics, Georgetown University; worked on Jimmy Carter's presidential campaign at the Democratic National Committee; and following Carter's election in 1976, joined the Office of Congressional Relations at the Department of Housing and Urban Development.

Wessel graduated in 1973 from the State University of New York at Binghamton with a BA in Sociology.