Missy Foy
Elite Athlete

Read Missy's inspirational story in Parade Magazine
Click Here for Missy's website.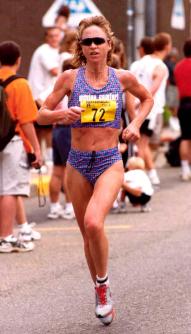 Missy Foy is an accomplished distance runner and, in 2000, she became the first diabetic athlete in history to qualify for Olympic Marathon Trials. Missy has competed successfully in major road races and marathons. She has now moved up to ultramarathons and, in 2005, Missy ran the difficult Umstead 50 Mile Ultramarathon in 7:15:06 to break the course record by twenty minutes, to garner a top 10 world ranking for 50 miles for the year, and to clinch a #1 world ranking for a 50 mile trail race for 2005. She was second in the USATF 50 Mile National Championship in 2007. In addition to being named the Carolina Runner of the Year for 1997 and 1998, she was the recipient of the USA Track & Field Athlete in Development Award (NC) in 1998 and 1999, was awarded the LifeScan International Athletic Achievement Award in 1999, and served as chair of the North Carolina USA Track and Field Women's Long Distance Running Committee for three years.

A graduate of the University of North Carolina, Missy is currently completing her PhD in Medical History with a research focus on minority problems in health care. She is also maintaining a position in Medical Research at the Durham VA Medical Center while in school. Throughout her education and her research career, she has been the recipient of numerous merit awards, ranging from academic honor societies like Phi Beta Kappa to scholarships, fellowships, and career service awards in research.

Missy is an active advocate for children with diabetes and for women's health and fitness initiatives. A popular guest at summer camps for children with diabetes, Missy is also an excellent and inspiring speaker at seminars and conferences. Missy has been featured in numerous magazine articles and cover stories and has also been featured on CNBC's D-Life program. An eloquent speaker and charming guest, she is always a favorite of audiences across the country.

Missy and her husband, Bob, live in the Piedmont region of North Carolina with their two adopted cats.