JEFF DARMAN
Kennett Square, PA
Current Professional: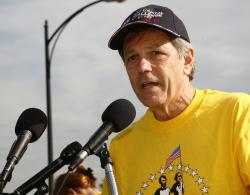 President, Darman and Associates, a sports marketing and public relations firm.
Director - ACLI Capital Challenge: I created this event, a three mile footrace for teams captained by U.S. Senators, members of Congress, the Executive Branch, the media and the Federal Judiciary. Among past participants, former Vice Presidents Al Gore and Dan Quayle; Ted Koppel, Andrea Mitchell, Bill Plante, Bob Hager, Pat Buchanan; Senators Richard Lugar, Tom Daschle, Bill Frist, Chuck Grassley; Members of Congress Dick Gephardt and Jane Harman; Former Secretary of Transportation and Energy, Federico Pena, Former Secretary of Commerce/US Trade Rep, Mickey Kantor; Former OMB Directors, Mitch Daniels, Jim Miller and Frank Raines; FBI Director, Louis Freeh, scores of other Senators, Congressmen, presidential appointees and many other VIPís. The race benefits DC Special Olympics.


Road Race Management: For this specialized newsletter and book publishing company, I coordinate the annual Race Directorís meeting and trade show for race officials from around the country and serve as all-around advisor.


Sports Marketing Director - Moving Comfort. For more than 20 years, I reviewed all promotion proposals in a variety of womenís sports, coordinated their athlete programs and advised on marketing, media relations and promotions.


Running Times Magazine: Former Senior Marketing and Promotions Director


The Darman Group: A Speakers Bureau.


Other clients who have retained Darman and Associates over the years to advise on sports programs, public relations, and marketing range from organizations such as BíNai BíRith and the Washington D. C. Urban League to Nike, Moving Comfort, Perrier, Avon, Moses Cone Health Systems, National Press Club and many others.


Expert Witness for law firms on insurance liability issues.


Former coordinator of the Credit Union Cherry Blossom 10 Mile (Washington, D.C.)


I created the Nike Womenís Race, which attracted some of the finest elite womenís fields ever (World Record set), as well as several thousand other runners.
Previous Employment:
Served in a variety of positions with public, non-profit, and private organizations including: Special Assistant to the Director of VISTA, Executive Assistant to the US Ambassador to Australia, Assistant to the Executive Vice President National Urban Coalition, consultant on Public and Urban Affairs, freelance writer and Director of Public Affairs, American Anthropological Association.
Political Involvement:
Having spent three decades in Washington, D. C. area I have worked closely with members of Congress and Executive Branch officials from both parties and pride myself on bi-partisan support I have received for special projects. Held staff and volunteer positions in several national and local political campaigns. In addition, I served two terms on the Borough Council of Kennett Square including a stint as Council President.

Education:
Boston University, Degree in Political Science
Military:
US Coast Guard
Awards:
Road Runners Club of America (RRCA) Hall of Fame

USA Track and Field Presidents Award

RRCA Presidents Award (3)

USA Track and Field Award of Merit

D. C. Road Runners Club Hall of Fame

Fred Lebow Award from National Distance Running Hall of Fame for lifetime contributions to the sport of distance running

Sustained Superior Performance Award (US Government)
Other Volunteer Activities:
Former President of Road Runners Club of America (RRCA)

Former President American Association of Running Clubs (AARC)

USA Track and Field Board of Directors (USATF)

Camp Dreamcatcher

Executive Board PRRO (Professional Road Running Organization)

Former President D. C. Road Runners Club

Member Kennett Square Fire Control Board

Former member Kennett Square Historic Commission